Podcast: Play in new window | Download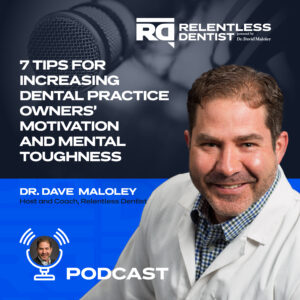 Doc, when you started your practice, did you ever think that you needed to have mental agility and toughness to survive in this industry?
I know you love your practice, so there's no turning back amidst all the threat and fragility that goes with it. Instead, let's figure out a way up and around that threat by discussing the real science and tools behind mental toughness. 
Let's talk about the important topic of Mental Toughness for Dentists.
Doc, if you want to see your challenges as opportunities,

Stay motivated in uncertain times, and

Engineer and environment that keeps you winning…

So you can consistently level up your Practice Owner Confidence, tune in now!
And after listening, I hope you feel confident that you've got some extra tools and insights to thrust you into this new economy.
Listen in and find solutions to common practice issues at  Prescriptions for Your Practice.
If you enjoyed this episode, please share it with your dentist friends. Check my Instagram (@dr.maloley) and TikTok (@dr.maloley) for your daily dose of thought-provoking content so that you can be a better practice owner. Don't forget to subscribe to the show on iTunes to get automatic episode updates for The Relentless Dentist! And, finally, please take a minute to leave us an honest review and rating on iTunes. They really help us out when it comes to the show's ranking, and I make it a point to read every single one of the reviews we get.
Key Quotes:
"You lead you to upgrade your confidence to lead your team. And you and the team, together, can lead patients to get the care that they need." 

"Resilient leaders have resilient teams and resilient businesses that can win in any economy."

"We have to get to the point where we're comfortable in our skin when running a dental practice because it's less exhausting, and you'll be much more influential to your team and patient."

"Give up to me is emotional, like I can't handle it anymore. Quit is intellectual. Like it does not make sense for me to pursue this target, to wrestle with this challenge any longer."

"Between stimulus and response, there's the freedom to choose. And within that freedom to choose, you have imagination. You have self-awareness, you have a conscience, and you have an independent will, but that will not happen if you do not have a steady mind."

"How you view the future matters – matters big time."
Featured on the Show: