Podcast: Play in new window | Download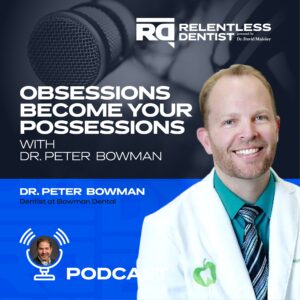 It feels great to reconnect with a good friend, Dr. Peter Bowman, whom I guested in my podcast 5 years back talking about The Art of Believing and Achieving. Fast forward to the present, Peter now owns a world-ranked 9-hole golf course and his dental practice is currently focused on implant cases in varying degrees of complexity, sedation dentistry, and Invisalign.
Listen in as Peter gives us a glimpse of what his work week looks like, his undertaking outside the practice, how he adapted his practice model to his other ventures, biohacking, and a trip down memory lane on how luck played a role in why he got into dentistry.
Tune in and find more Bold Biographies
Key Quotes:
"Doing more efficient scheduling and delegating to the assistant, scheduling docker time and assistant time, we still have to kind of stay on top of that sometimes. But you know, just like anything else, nothing goes perfectly. All we can do is to make it better with each day."

"You're putting out fires the whole time. You don't have enough time to figure out where you want to grow and do new things, and doing that buffer time is really hard to even get scheduled. But you know, once you've got it and formed that habit, it's been the best thing I made in the long time."

"A lot of my time is spent marketing and finding opportunities for growth, figuring out what service we don't offer, the other offices in the area don't offer, and finding a way to introduce that into the practice, picking a little niche to take care of."

"I think you can do a fee-for-service model pretty much anywhere, but you really have to make yourself stand out and differentiate yourself."

"We still do most of our approach based on finding out what the issues are, finding out what the patient wants, telling them how we can give them what they want, here's what more we can do. And it just seemed to work for us. We built up a lot of trust and people keep coming back. So that's how we do it."

"You become what you think about."
Featured on the Show: