Podcast: Play in new window | Download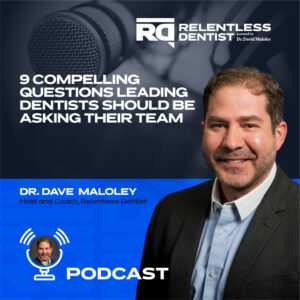 Are you tired of being the bottleneck in your dental practice decision-making process and struggling to get your team members engaged? As a dental practice owner, your team's success is directly tied to your ability to lead effectively. 
Studies show that asking good questions leads to better decision-making, problem-solving, and overall team performance. By implementing these strategies, you can create an environment of continuous learning, greater productivity, and job satisfaction. Ultimately, this will lead to better patient care and help you elevate your dental practice to new heights.
In this episode, I discuss why telling is out and asking is in.
So if you want to enhance employee buy-in and productivity…

If you want to stop being the bottleneck to dental practice growth …

If you want your team to have an owner mentality because you recognize that collaborative and decisive teams win in the next decade…
Tune in now!
Listen in and find solutions to common practice issues at  Prescriptions for Your Practice.
Join The Leading Dentist Collective – the free collaborative community for single-location dental practice owners who want to unleash their people, profits, and purpose.
Key Quotes:
"Excessive telling leads to lack of ownership, so they'll think more like a renter than an owner."

"Ownership does not mean an equity position. It means a state of mind."

"Your job as a CEO is to point them towards the mission, give them a set of values to operate by, and then give them the tools and training they need to succeed and be autonomous in their job."

"By involving team members in this process, by involving them and improving the workflow, you're gonna help them again create a sense of ownership. It's gonna enhance their buy-in to whatever you're doing."

"Asking team members for their input, you show that you demonstrate genuine interests, that you're willing to customize it, that you're gonna understand their love language or the language of appreciation because each person is gonna be wired slightly different."
Featured on the Show: