Podcast: Play in new window | Download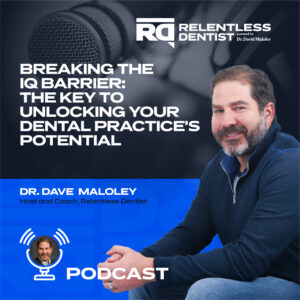 As a dental practice owner myself, I know the struggles of feeling powerless when things don't go as planned. But, I discovered a powerful tool that transformed the way I run my practice – emotional intelligence. I'll share my journey of breaking the IQ barrier and embracing emotional intelligence to create a positive and supportive work environment, enhance patient experiences, and improve the overall profitability of my practice.
In this episode, I discuss why Emotional Intelligence is mission-critical for a modern dental practice.
So if you want to have what 90% of top-performing leaders possess…

If you want to level up your practice's culture …

If you want to know why it all starts with self-awareness and self-management so you can have a dental team other dentists are jealous of…
Tune in now!
This episode is packed with tips and insights that could transform the way you run your dental practice. Don't miss out on this opportunity to become a confident and capable leader in dentistry. 
Listen in and find solutions to common practice issues at  Prescriptions for Your Practice.
Check out our New Case Study, "Discover How To Recession-Proof Your Dental Practice In The Next 60 Days So That You Increase Profits & Avoid Losing Key Team Members" now at: http://thenorecessiondentist.com/casestudy.
Join The Leading Dentist Collective – the free collaborative community for single-location dental practice owners who want to unleash their people, profits, and purpose.
Key Quotes:
"

When you neglect the importance of emotional intelligence, you are missing the whole game of communication, collaboration, and connection."

"If dental practice owners prioritize emotional intelligence, it can have several positive effects on the practice and all the people involved."

"It's important to know your values and they're integrated into the practice's values."

"If you want emotional intelligence to be a big part of your practice ownership, you have to set the standards and role model the way.

"
Featured on the Show: