Podcast: Play in new window | Download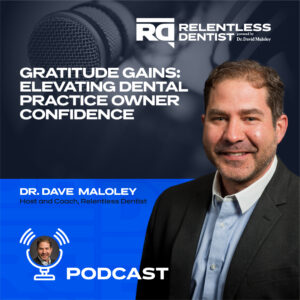 How can you begin incorporating gratitude daily to revolutionize your dental practice?
In the high-stakes world of dental practice, where every decision counts, embracing gratitude can be your game-changer. This isn't just about feeling thankful; it's about leveraging a scientifically proven tool to enhance both your well-being and the success of your practice. Imagine transforming stress into strength and challenges into opportunities with the simple, yet powerful act of gratitude.
In this must-listen episode for dental practice owners, we delve into the transformative power of a next-level gratitude practice:
Revolutionize Your Mornings: Learn how to supercharge your morning routines and team huddles with gratitude.
Uncover Health Breakthroughs: Grasp how gratitude profoundly impacts pain control, sleep quality, stress levels, and inflammation.
Boost Confidence & Drive: Discover immediate strategies to conquer fear and skyrocket motivation, leveraging gratitude to enhance your professional confidence.
Don't miss out on this opportunity to transform your dental practice. Tune in now to elevate your leadership with the power of gratitude!
P.S. Reveal the hidden potential in your dental practice. Take the Dentists Ascend Quiz for your customized results.
Key Quotes:
"Practicing gratitude leads to release of dopamine and serotonin."
"One study showed that individuals who wrote letters of gratitude, in addition to receiving counseling, recovered more quickly from their mental health concerns compared to those who journaled on negative experiences."
"Studies have shown that gratitude practices lead to deeper and healthier sleep patterns."
"Gratitude has been found to reduce cortisol levels. That leads to better cardiac functioning and greater resilience to emotional setbacks and negative experiences."
"Gratitude practice aids in managing the autonomic nervous system's functions significantly reducing symptoms of depression and anxiety."
"Research has shown that individuals who practice gratitude have lower levels of systemic inflammation."
Featured on the Show:
People:

Anne Frank

, a German-born Jewish girl who kept a diary in which she documented life in hiding under Nazi persecution.
People:

Robert Emmons

, an American psychologist and professor at UC Davis.
Movie:

Me, Myself & Irene

, a 2000 American slapstick black comedy film directed by the Farrelly brothers, and starring Jim Carrey and Renée Zellweger.
Place:

The Gashouse Restaurant

, an American kitchen with a country-chic vibe.

I appreciate your feedback. Let me know what you learned and loved here:

[email protected]

.