Podcast: Play in new window | Download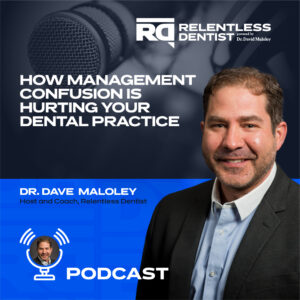 Having a successful dental practice is more than just having a great team. It is also about having the appropriate leadership and management strategies in place. Unfortunately, many dental practices suffer from low morale, high turnover rates, and decreased profits because of ineffective management.
Leadership and management are two different things – and when dental practice owners rely too heavily on traditional management techniques, it leads to low morale, productivity, and loyalty. As a result, it can take away from the practice's overall success and the dental practice owner's paycheck.
In this episode, I discuss catastrophic management mistakes dentists make.
So if you want to prevent team turnover and poor morale…

If you want to find more fulfillment AND profits in your dental practice…

If you want to understand why the way we work isn't working so you can surround yourself with the best team imaginable…
Tune in now!
Listen in and find solutions to common practice issues at  Prescriptions for Your Practice.
Check out our New Case Study, "Discover How To Recession-Proof Your Dental Practice In The Next 60 Days So That You Increase Profits & Avoid Losing Key Team Members" now at: http://thenorecessiondentist.com/casestudy.
Key Quotes:
"Human beings are meant to strive. We're not supposed to be in a tensionless state, and I hate that achievement-oriented people are considered radicals."

 "I think there are certainly better ways to go about goal achievement than using resolutions. Nonetheless, I think every year should, you should have a determination that this year is going to be your best and you'll learn skills and mindsets that allow next year to be your best."

"Let's appreciate that at the heart of this great resignation, we can blame it on a generation of people that don't wanna work. I don't think that's true. I think it's more about there being a lot of workplaces that suck."

"Leaders create more leaders. Managers are about authority."

"A leader allows the vision and the values to be the boss and to guide the behavioral standard. A manager will believe that if everyone colors inside their lines and follows the script, then we'll be just fine."

"In the real world, not everything goes as planned even when we are trained properly when prepared properly, and we have the best of intentions."

"You as a leader still have to get what you need. We have to make sure that we are creating an environment that brings out the best in us, so we can't just sacrifice, sacrifice, sacrifice."
Featured on the Show: