Podcast: Play in new window | Download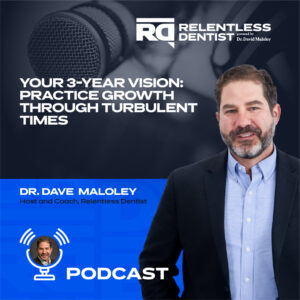 Most small business owners, particularly in dentistry, when they're planning growth, either it's the hope-and-pray method like I hope we grow or it's forecasting growth, meaning most decisions are past-driven. The problem with forecasted growth is it allows the past to be an anchor.
In this episode, I tell you why future-casting beats forecasting.
So if you want to create your own economy,

prevent employee turnover,

enjoy more vacations,

and have a career that you're truly proud of…tune in now!
I want you all to be great leaders. I want you all to have practice owner confidence in any economy. And it all starts with your 3-year vision.
Listen in and find solutions to common practice issues at  Prescriptions for Your Practice.
If you enjoyed this episode, please share it with your dentist friends. Check my Instagram (@dr.maloley) and TikTok (@dr.maloley) for your daily dose of thought-provoking content so that you can be a better practice owner. Don't forget to subscribe to the show on iTunes to get automatic episode updates for The Relentless Dentist! And, finally, please take a minute to leave us an honest review and rating on iTunes. They really help us out when it comes to the show's ranking, and I make it a point to read every single one of the reviews we get.
Key Quotes:
"Having employed many different people over time, I can remember those who worked for me and grew up in entrepreneurial environments. They just stand out the things that are troubling for other people. They know how to surf those waves; those waves don't crash down on their heads." 

"I used to think of these things like vision, mission, and values as a would-be-nice-to-have. But now I consider them essential because there's so much noise, so much distraction. So many things are trying to insult our small businesses that if we don't have a well-designed future that looks better than this, it's easy to get locked up in the noise. It's easy to get distracted. It's easy to get frustrated."

"Hard doesn't make it unnecessary. It doesn't mean it's something that you should avoid. It just means it'll take a little bit more time and effort to build this out." 

"Vision becomes really important. Yes, it is make-believe, but it helps you design a specific future."

"Don't worry about the 'how.' Just worry about the 'what.'"

"Do not feel guilty for wanting what you want. Don't buy into someone else's vision and version of success. Don't feel like you have to explain it to anyone else."

"The 'what' and the 'why' have to come before the 'how.'"
Featured on the Show: