Podcast: Play in new window | Download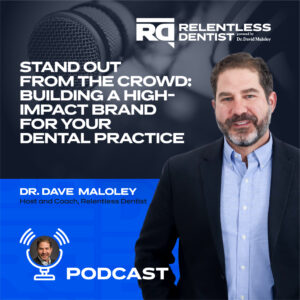 Would you rather be compensated for who you are or what you do? It's a question worth pondering as you embark on your journey to differentiate yourself in the dental industry.
It's time to go beyond offering exceptional dental services and create a unique identity that resonates with your target audience. By investing in who you are as a dental practice, you will attract patients who value your unique qualities and are willing to pay a premium for your services.
In this episode, I discuss why this is a really bad time to be "just another dentist."
So if you want to know what it takes to increase your revenue with less effort …

If you're ready to design your practice's essence and how it's perceived by patients …

If you want to be in a category of one in your community so you can get paid more and take more time off…
Tune in now!
Listen in and find solutions to common practice issues at  Prescriptions for Your Practice.
Join The Leading Dentist Collective – the free collaborative community for single-location dental practice owners who want to unleash their people, profits, and purpose.
Key Quotes:
"Without a clear brand, identity, and messaging, these same practices are gonna fail to establish a memorable and consistent patient experience, resulting in reduced patient loyalty and engagement."

"A weak brand fails to build trust and credibility, making it harder to persuade potential patients to choose your services, AKA case acceptance."

"A dental practice with a high-impact brand enjoys several advantages. It stands out in the competitive market, attracting more attention and interest from potential patients."

"A strong brand establishes trust, credibility, and a positive reputation, making it easier to convert interested individuals into loyal patients."

"A high-impact brand fosters patient loyalty and advocacy, resulting in word-of-mouth referrals that reduce marketing costs and increase revenue growth opportunities."
Featured on the Show: