Podcast: Play in new window | Download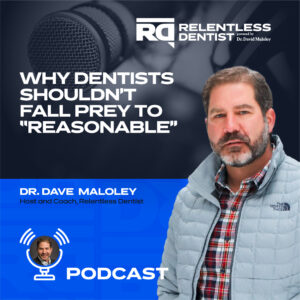 In order to succeed in dental practice, it is important to think big. By this, we mean having a clear and defined vision for your practice and then working hard to make that vision a reality.
Doc, are you stuck in mental loops of lack and limitation?
In this episode, I discuss the importance of BIG thinking!
So if you want to understand what keeps things difficult for today's dental practice owners…
If you want to acknowledge that your "shoulds" are a red flag…
If you want to expand your vision and win no matter what, so you can live into your possibility and potential…
Tune in now!
Listen in and find solutions to common practice issues at  Prescriptions for Your Practice.
Check out our New Case Study, "Discover How To Recession-Proof Your Dental Practice In The Next 60 Days So That You Increase Profits & Avoid Losing Key Team Members" now at: http://thenorecessiondentist.com/casestudy.
Key Quotes:
"

When everybody wakes up every day with the same mission, that's when you do great things."

"Your future is going to be better than whatever is happening right now. And to pull that off, we can't focus on the rearview mirror. We have to spend more time in our imagination than in our memory." 

"As a leader, it's our duty to have a big enough vision so that all the people that we lead can have their vision fit within our vision."

"Thinking big is just as easy as thinking small, but there's a much bigger grander payoff there. And thinking big keeps you growing and makes your journey more fulfilling."

"You don't have to have it all figured out. You just have to take the first steps toward your dream and have the willingness to do whatever it takes and be resourceful along the journey."
Featured on the Show: