Podcast: Play in new window | Download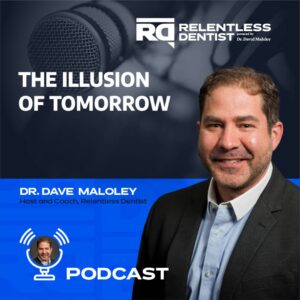 We often find ourselves facing a common challenge – the Illusion of Tomorrow. We tell ourselves that tomorrow will be the perfect day to tackle important tasks, implement changes, and embrace new opportunities. But why do we keep clinging to tomorrow?
Let's delve deep into the psychology behind our actions and discover how to break free from this illusion. We'll explore the factors that hold us back, from optimism bias to the avoidance of discomfort, and how they impact our decisions as dental practice owners.
In this episode, I discuss why you won't have more time, discipline, and willpower tomorrow.
So if you want to know what to do when your dental career path stops making sense…

If you want to hear Steve Jobs' best career advice, and…

If you want to be more purposeful so you can make dentistry more prosperous and fulfilling…
Tune in now! Not tomorrow.
Listen in and find solutions to common practice issues at  Prescriptions for Your Practice.
Attention single-location dental practice owners who want to build a high-performance team so that you can take more time off while enjoying elevating profits: Learn about Dental Practice 3.0 and the new Dentists Ascend Mastermind
Key Quotes:
"What we fear doing most is usually what we most need to do… I started to use that quote as my guidance system. Wherever I was feeling significant fear, significant resistance, I would try and put it to the top of my priority list and just step into that fear."

"The reality is that you're not gonna suddenly have more time, discipline, or willpower. So it's best to stop living in the illusion of tomorrow."

"I think back and if I wouldn't have had that one moment of strength… I really don't know where I'd be right now. It'd be a different world."

"You can't connect the dots looking forward. You can only connect them by looking backward… You have to trust that the dots will somehow connect in your future."

"There have been many times on this journey where it made absolutely no sense to me… but when I look in the rearview mirror, it's amazing how the dots connect and have led to an absolutely incredible life."
Featured on the Show: