Podcast: Play in new window | Download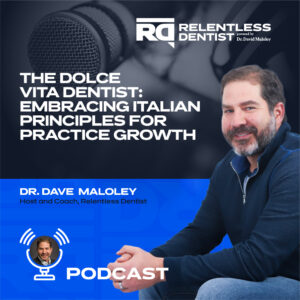 Are you tired of facing recurring challenges in your dental practice? Ignoring the valuable lessons from Italian culture can lead to missed opportunities for patient connection, limited differentiation, ineffective communication, and reduced patient satisfaction. It's time to break free from these limitations and elevate your practice to new heights. Communication is key to any successful practice. 
Imagine the impact of embracing warm and personal interactions, just like the Italians do. Italians are known for their conversational skills, and neglecting this aspect can result in ineffective communication with your patients. Clear and engaging communication is essential for explaining treatment options, addressing concerns, and building trust. 
In this episode, I discuss the transformational lessons I learned from living in Italy for two years.
So if you want to generate 2x as many word-of-mouth referrals…

If you want to truly surprise and delight the patients on your schedule…

If you want to coach your team create deeper connections so you can differentiate and win big in this economy…
Tune in now!
Listen in and find solutions to common practice issues at  Prescriptions for Your Practice.
Join The Leading Dentist Collective – the free collaborative community for single-location dental practice owners who want to unleash their people, profits, and purpose.
Key Quotes:
"By ignoring Italian principles, dental practice owners may miss the chance to differentiate themselves in competitive markets, in economic headwinds."

"Embracing unique aspects of Italian culture can help you create a distinct identity and attract patients who are seeking that more personalized and enjoyable dental experience."

"Italian culture values warmth, hospitality, and the personal touch. And failing to incorporate that is going to lead to lower levels of patient satisfaction."

"Let's explore the art of personalized attention and understanding a patient's needs and delivering tailored solutions. Not only tailored solutions for their dental issues but also tailored situations for their personality type."

"We must utilize appropriate nonverbal communication, such as hand gestures, facial expressions, smiling with our eyes, eye contact, conveying warmth, understanding, and empathy, and be pretty good at reading body language."
Featured on the Show: