Podcast: Play in new window | Download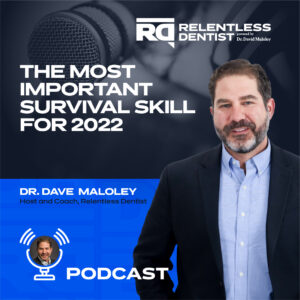 It's the last week of 2021, and boy, what a year it has been. Before I delve into our topic, I would like to thank you for being with me this year, and I hope you'll keep me company in the years to come.
What's 2022 look like to you? How will it significantly differ from your 2021 or even the previous years? Have you envisioned a radical transformation for your dental practice, or you'll default to old habits, old belief systems, old strategies, and old routines? How about you as an individual? Have you started stacking up new skill sets to help you execute the visual you've set for yourself and your practice?
In this episode, I will talk about the most essential survival skill of 2022. I'll also share the four fundamental shifts to help your transform and adapt to a fluid identity. Finally, I'll reveal my favorite transformation story of all time. So please sit back, relax, and spend the turn of the year listening to my podcast. Take charge and lead the way to a courageous and transformative 2022.
Tune in and find solutions to common practice issues at  Prescriptions for Your Practice.
Key Quotes:
"

The problem, as I see it, is that many business owners and dentistry and healthcare, and other industries are experts in an earlier version of the world.

"

"A transformation isn't a shift in what you do. It's a shift in who you are, so you can extend who you are as a business owner and leader."

"We're designed to remain the same –homeostasis. We're designed to stay the same. And when we change identity, part of us dies."

"If we want a more radical shift, a transformation, you as a leader will have to change the way that you think about your business and leadership."
Featured on the Show: