Podcast: Play in new window | Download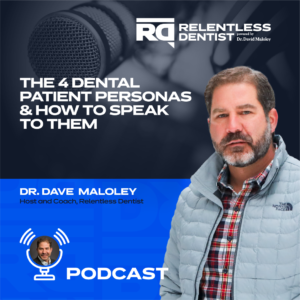 There's SO MUCH more to case acceptance than value and price.
So how do we help patients want what they need? We must understand what archetype and persona are in front of us and speak to them about how they best process information and make decisions. 
If you implement what I tell you today, you will feel a massive connection to your patients and a return on investment that supports the energy you've poured into this profession.
Doc, if you want to:
understand the radical difference between fast decision-makers and slow decision-makers,

build trust with both your logical and emotional patients,

get inside the mind of your patients so you can skyrocket your treatment plan acceptance,
Then tune in now!
Listen in and find solutions to common practice issues at  Prescriptions for Your Practice.
Check out our New Case Study, "Discover How To Recession-Proof Your Dental Practice In The Next 60 Days So That You Increase Profits & Avoid Losing Key Team Members" now at: http://thenorecessiondentist.com/casestudy.
Key Quotes:
"Dentists and dental teams can learn to speak in a patient's native tongue."

"We're helping patients want what they need."

"The big word for competitive people is best. They're looking for the best."

"Methodical patients will not decide until they feel like they've soaked up all the information they can."

"You will be better understood if we can better understand them [patients]. And if you're better understood, you're going to grow your practice quite quickly year after year."

"If you're adding value to your practice, that's what comes in return, like a boomerang in the form of cash flow."
Featured on the Show: