Podcast: Play in new window | Download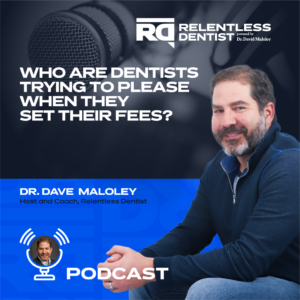 Is it time to raise your fees?
The biggest problem I see in the marketplace is the increasing cost of doing business. Dental practice owners must have the courage to set their fees high enough that they don't have to work harder or take a pay cut in this volatile economy. It's part of the game of doing business. 
But how do you know when it's time to raise your fees?
Doc, if you want to:
Retain your top team members,

Understand the different dental patient value systems, and

Keep up with inflation so you can succeed in a volatile economy, then
Tune in now!
Listen in and find solutions to common practice issues at  Prescriptions for Your Practice.
Check out our New Case Study, "Discover How To Recession-Proof Your Dental Practice In The Next 60 Days So That You Increase Profits & Avoid Losing Key Team Members" now at: http://thenorecessiondentist.com/casestudy.
Key Quotes:
"The underlying problem is that the owner's confidence and self-esteem play a major role in setting the fees."

"We don't let our personal insecurities keep our practice from growing."

"Nurture that savvy business owner, CEO, and entrepreneur who makes intellectual decisions that are best for long-term practice."

"There's a value in a relationship that exceeds and is more important to them [patient] than your fees."

"The trust and rapport you've built up, that emotional equity has a real value, and it's worth more to most of your patients than worrying about and getting all frantic about a fee bump."

"You'll need to continue investing in your technology, training, and team to provide a premium patient experience."

"Be courageous, be bold, raise your fees, and pay yourself what you're really worth, which is probably more than what you're paying yourself right now."
Featured on the Show: