Podcast: Play in new window | Download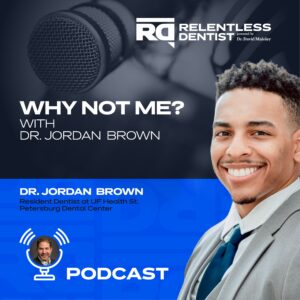 Dr. Jordan Brown reminds me of what's good about the profession of dentistry. His "Why not me?" attitude is truly admirable. He may be a resident, but don't let his youth fool you — he is wise beyond his years. His robust story, compelling bio, and positive disposition will surely inspire many in our profession.
Listen in as Dr. Jordan talks about skyrocketing dental tuition, becoming a lifelong student of clinical and communication skills, the importance of access to care of the underserved, and leveraging Instagram as a force for good.
Tune in and find more Bold Biographies
Key Quotes:
"From seeing that transformative experience from a close family member of mine, that kind of led me to want to not only be a dentist, but be a dentist that's practicing in underserved areas where I know my work will have the biggest impact on those patients."

"I knew I wanted to work in these [underserved] communities and I knew I wanted to have advanced training. So that way, when I did go out and venture on my own, I would know how to handle these cases in a methodical way. Not only just to get the job done, but to get the job done well."

"Information should be shared. Knowledge is power."

"There are a few different ways that dental students can pay for tuition. One is loans. Most people do that. Second, military. Military is a fantastic option for paying for dental school. But there's a third lesser-known option that a lot of people don't know about. And that's what I did. So I did the National Health Service Corps scholarship program."

"You can either work in a fairly qualified health center, you can work in private practices, you can start your own practice. From a private practice standpoint, you can start a practice, but it has to satisfy the criteria that the program sets forth."

"In my life I always follow the model of 'Why not? Why not me?'"

"I never let difficulty deter me from reaching my goals. And I highly encourage all your listeners, students, dentists, just to think about why can't you be that person that great things happen to."

"You have to make your patients like you because people buy things from people they trust. Patients will not accept your dental treatment recommendations if they don't like you."

"The last thing that I think is really important is that, when you're checking out your patients at your desk, give them your personal cell phone number."

"You have to go above and beyond for your patients because they can go anywhere else to get that treatment."

"You can always improve upon yourself and always have a growth mindset. That when you have any setback, any failure in your career, just use that as an opportunity to learn, grow, and improve and just to do better."
Featured on the Show: