Podcast: Play in new window | Download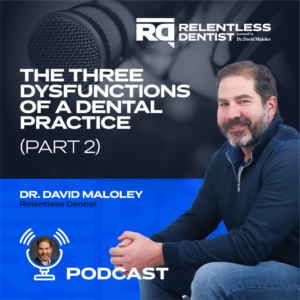 This is part two of my three-part series called "The Three Dysfunctions of a Dental Practice." Before continuing with this episode, I encourage you to listen to part one, where I share why dentists are constantly looking for external solutions to their internal problems and how to fix this. Today I will be discussing the false belief many dentists have that their number one job is being a good clinician when it is actually being a good leader.
Listen in as I explain three activators that drive mastery within your practice: goodwill, case acceptance, and team building. You will learn the importance of building trust and rapport with your clients, how to create a "surprise and delight" aspect of your service, and how to ensure you have the right members on your team. If you are looking to grow your business and create long-lasting clients, this is the episode for you.
Enroll in your free video training here: How The Most Successful Dental Practice Owners Work Less & Make More Every Year
Tune in and find more Prescriptions for Your Practice Podcast Episodes
Key Quotes:
"Everything you do is a marketing asset or a marketing liability."
"A dental practice isn't limited by its opportunities—it's limited by its leader."
"You can't really fake trust, so you have to make sure that you and your team are working in your patient's interest."
"When it comes to team building, we have to make sure we have the right players on the team."
"Ideal team players are hungry, humble, and smart."
Featured on the Show: