Podcast: Play in new window | Download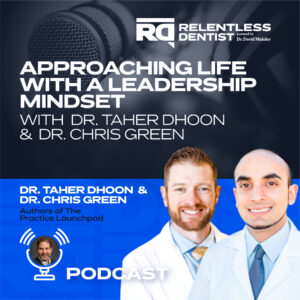 Today's guests are willing to do what other people are not. They figure out ways to engineer over the leadership challenges, the team turmoil, and the patient unrest. In this episode, Dr. Taher Dhoon and Dr. Chris Green join the show to share insights from their book, The Practice Launchpad, and explain the impact the current pandemic has had on their business.
Listen in as they explain how they have harvested what everyone is looking for in dentistry: more revenue, more profit, more time, and more meaning. You will learn the benefit of approaching life with a leadership mindset, whether anyone can own practice and more.
Tune in for more Prescriptions for Your Practice
Key Quotes:
"You have to have a framework to go off of and then pick and choose what fits the practice you're building."
"We're just legitimately out there to help people."
"Being a husband and a father are far more important than the business aspect of things."
"Anyone can own a practice surrounding themselves with the right people."
"If you want to make it somewhere, research is critical!"
"You don't have to pay money to get good knowledge these days."
Featured on the Show: