Podcast: Play in new window | Download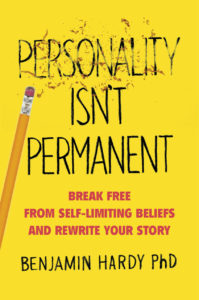 As we slowly make our way through to a post-COVID economy, the timing could not be better to be thinking about reinventing ourselves as leaders and reinventing our practices. We often feel as though we are a byproduct of our training, not realizing that we have the capability to continuously shift ourselves. That's why I've got Ben Hardy, PhD, author of Personality Isn't Permanent, with me today to discuss the concept of reinvention and how we can become who we genuinely want to be.
Listen in as Ben explains the importance of being mindful so you can become adaptive, as well as what selective attention is and how it is relevant to you. You'll learn the importance of journaling and setting goals as a way to move toward your future self. If you are ready to break free from your own self-limiting thoughts, this is the episode for you.
Key Quotes:
"In dentistry, what makes us excellent clinicians is exactly what holds us back as entrepreneurs."
"The timing couldn't be better as we think about reinventing ourselves as leaders and reinventing our practice."
"If you are wanting to become something new and actually become a future version of yourself and get better, you've got to own that your current self isn't the full thing, and you have to own being wrong along the way."
"If your tool doesn't work consistently, then it's not a good tool."
"Your future self is not the same person you are today."
"We're a byproduct of our training and don't often realize that we can continue to reinvent and shift ourselves."
"The number one regret that people have on their deathbed is that they didn't have the courage to be who they wanted to be."
Featured on the Show: