Podcast: Play in new window | Download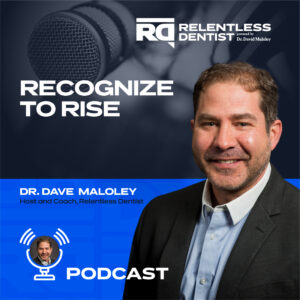 Recruiting and retaining top talent is much harder than ever. We will address this issue in many different ways today.
As my mother's day gift to you, I'm kind of throwing everything at you lots of tools and lots of food for thought. Deploy these right away. 
Doc, do you want an unfair advantage in retaining top talent, increasing employee engagement, and encouraging high performance?
If you want to avoid the pain and expense of replacing top team members,

Understand how a stuffed rhinoceros can improve team morale, and

Embrace the difference between recognition and praise so you can know how to create the best place to work in your community,
tune in now! We are going to recognize to rise.
Listen in and find solutions to common practice issues at  Prescriptions for Your Practice.
If you enjoyed this episode, please share it with your dentist friends. Don't forget to subscribe to the show on iTunes to get automatic episode updates for The Relentless Dentist! And, finally, please take a minute to leave us an honest review and rating on iTunes. They really help us out when it comes to the show's ranking, and I make it a point to read every single one of the reviews we get.
Key Quotes:
"The key to retaining top talent, the key to increasing employee engagement, the key to encouraging high performance, it's free. It's all free."

"I would argue that you don't invest in people that you don't care about."

"I think the only real leadership is tough love. You kind of use the slider of when do I be tough and when do I pour on the praise? And when am I more loving?"

"Most people don't know what healthy conflict looks like, so you have to teach it to them."

"If you recognize you'll rise."
Featured on the Show: