Podcast: Play in new window | Download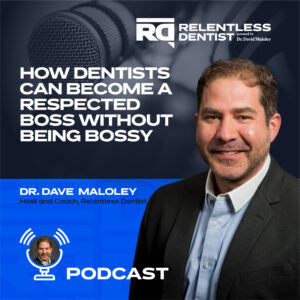 "Great leaders are almost always great simplifiers, who can cut through argument, debate, and doubt, to offer a solution everybody can understand." — Colin Powell
You've been hearing me say this time and time again, and I will keep reminding everyone who assumes a leadership role that "All organizations take on the personality of its leader."
A good team is composed of individuals who are committed to each other, have complementary skills, and are willing to work together for the betterment of the organization — and it all starts with a respected boss.
In this episode, I discuss The 6 Principles Of Highly Effective Leadership. So, if you want to:
Build a dental team of productive and responsible employees,

Create a practice culture of caring, courage, and candor,

Surround yourself with a high-performance team so you can enjoy workdays that are more profitable and less frustrating,
Tune in now!
Listen in and find solutions to common practice issues at  Prescriptions for Your Practice.
Check out our New Case Study, "Discover How To Recession-Proof Your Dental Practice In The Next 60 Days So That You Increase Profits & Avoid Losing Key Team Members" now at: http://thenorecessiondentist.com/casestudy.
Key Quotes:
"We shouldn't be pointing the finger but the thumb. If you own a dental practice, everything that happens in there is your responsibility."

"If you are the problem, it's easy to find the solution. Right? Just go hunt that problem down. Look in the mirror. There it is."

"Sometimes over-complication is a symptom of insecurity or vanity as a dentist."

"Simplicity reduces confusion and increases execution. Simplicity scales and complexity fails."

"Every beloved leader embraces reality with truth and optimism."
Featured on the Show: