Podcast: Play in new window | Download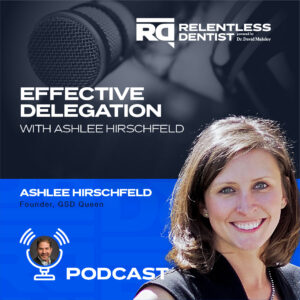 A lot of the burnout and frustration that dentists go through can be prevented by effective delegation. Ashlee Hirschfeld specializes in finding solutions to the challenges that hold business growth back, and in this episode, she will be sharing her insight and expertise in helping business owners get out of their own way and use delegation and other techniques to allow their businesses to thrive.
Listen in as we dive into the core problems in the industry and what we've seen dentists do poorly or well in this area. You will get some incredible insight into what good delegation looks like so that it doesn't feel like you're passing a baton that will eventually get dropped. Get out a pen and a journal because this episode has information that can have a massive impact on your dental practice.
Tune in to more Prescription for Your Practice Podcast
Key Quotes:
"Dentists can be a bottleneck for a lot of things. By delegating this stuff to a personal executive or virtual assistant, you're taking a lot of that stress off so you don't have to be the bottleneck as much for your team."
"Delegation is a big key to growth, freedom of time, and freedom from stress."
"If you're delegating really well, it puts you in more control."
"A lot of the time, people restrain from doing a good job because they're afraid of doing it wrong or messing things up."
"We need to make sure we're delegating the objective and not as much the process."
"If you haven't done personality testing with your team, I highly recommend it. There are so many options out there."
Featured on the Show: