Podcast: Play in new window | Download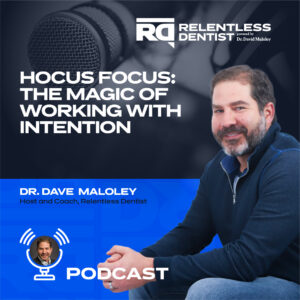 You don't get results by focusing on results. You get results by focusing on the actions that produce results. — Mike Hawkins
Where's your focus right now? At least 51% of our direction at all times should be on internal success. As a coach, my priority is on solo practice owners who want to be good at the craft and have a team that surrounds them that they trust that brings out the best in them. That brings out the best in the patient experience. 
Doc, do you need a few tools that keep your focus on what's important now?
If you want to avoid distraction and elevate your practice owner confidence…

Know why you'll want a Definite Chief Aim like Bruce Lee…

Show up as the type of dentist patients adore…
So you can develop the superpower of hyperfocus, tune in now!
Listen in and find solutions to common practice issues at  Prescriptions for Your Practice.
If you enjoyed this episode, please share it with your dentist friends. Don't forget to subscribe to the show on iTunes to get automatic episode updates for The Relentless Dentist! And, finally, please take a minute to leave us an honest review and rating on iTunes. They really help us out when it comes to the show's ranking, and I make it a point to read every single one of the reviews we get.
Key Quotes:
"Typical dentists don't want to spend all night and day on their business. They want a support team, but they don't want the toxicity. They don't want the gossip. They don't want the drama. They don't want the headaches. They want to focus on being a great dentist and providing a certain level of care to patients." 

"Life and business go sideways. When we put more of our attention on external success than we do on internal success."

"The news is bought by marketers and designed to trigger our primal fear response, right? And they scare you so that they can sell you a myriad of things."

"You are the product. And if you don't want to be the product, you need ways to stay focused and elevate your confidence." 

"The subconscious mind drives the vast majority of our behaviors, and it needs to have guidance and direction. Or usually, the default setting is not good."

"When it comes to obsession, you want it to be something that's embedded in your subconscious and it gives you direction in day-to-day life."

"From habit science, you need a cue, a behavior, and a reward to embed a habit to really leverage the automaticity of the habit."
Featured on the Show: