Podcast: Play in new window | Download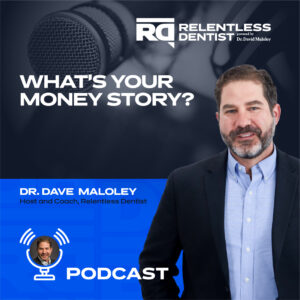 How would you explain your money story to me in one word? How would you define it, and where does the story come from? Once you've identified your money story, is it serving your practice or holding it back?
The great thing about a story is that you can change yours because it's not based on fact.
When it comes to your dental practice, have you noticed that Dentistry's Do-do Advice inhibits your practice growth?
If you want to understand how your childhood profoundly impacts your income …

If you want to know if you're a Survivor, Hoarder, Disregarder, or Creator …

If you want to move closer to your Ikigai so you can learn how to change your money story for fun and profit …
tune in now!
Listen in and find solutions to common practice issues at  Prescriptions for Your Practice.
If you enjoyed this episode, please share it with your dentist friends. Don't forget to subscribe to the show on iTunes to get automatic episode updates for The Relentless Dentist! And, finally, please take a minute to leave us an honest review and rating on iTunes. They really help us out when it comes to the show's ranking, and I make it a point to read every single one of the reviews we get.
Key Quotes:
"Sometimes running a business is hard. Sometimes being an employer is hard. Sometimes just being a human on this planet is hard. But as you go on, as you create your mission and vision, make sure that you're not leaving yourself out, and make sure that you are chasing what you love."

"Mastery takes time and effort."

"We are the stories we tell ourselves."

"Your money story has a profound impact on your practice."

"If I work hard, I get money, and hard work equals money. What happens if there's not enough money? Does that mean I'm not working hard enough? Or does that mean I have a bad strategy?"

"Once you get to the belief system level, a little shift creates a big impact, and that's where the transformation comes from."
Featured on the Show: