Podcast: Play in new window | Download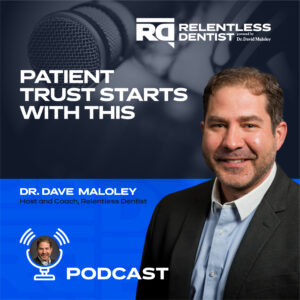 What are the key elements of happy, healthy, high-performance teams? How do we turn conflict into opportunities for collaboration? How does collaboration turns into innovation and that innovation turns into a remarkable patient experience? Finally, and more importantly, do you have a system for small talk?
Doc…
if you want to boost case acceptance, 5-star reviews, word-of-mouth referrals, and 

If you want to create your own economy and have your employees connect with your patients so you can have patients know, like, and trust you, then
Tune in now as we discuss why there's nothing small about small talk.
Listen in and find solutions to common practice issues at  Prescriptions for Your Practice.
If you enjoyed this episode, please share it with your dentist friends. Check my Instagram (@dr.maloley) and TikTok (@dr.maloley) for your daily dose of thought-provoking content so that you can be a better practice owner. Don't forget to subscribe to the show on iTunes to get automatic episode updates for The Relentless Dentist! And, finally, please take a minute to leave us an honest review and rating on iTunes. They really help us out when it comes to the show's ranking, and I make it a point to read every single one of the reviews we get.
Key Quotes:
"The economics are creating a significant headwind and the easiest way to win this game is to create your own economy."

"If dental teams have a system for small talk or at least some frameworks or guidance and embrace that, it is the on-ramp to trust, rapport, case acceptance, referrals, et cetera, and really good things happen."

"Research says 7% of communication is verbal. That means the rest is tonality and physical communication."

"We want to humanize ourselves, not to the level of unprofessionalism, but just to create a human-to-human connection."

"Stories are humanizing. They are trust-building if done tastefully and not inappropriately. So don't be caught off guard, have stories worth sharing."

"Little tiny things create small talk and the small talk creates a big connection. And the big connection creates even bigger chances for reputation building, referrals, and all of the things that you really need in private practice."
Featured on the Show: