Podcast: Play in new window | Download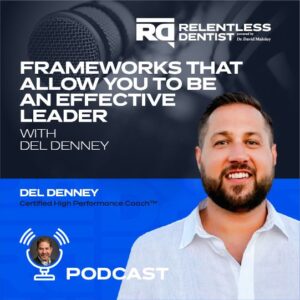 Del Denney is a keynote speaker, performance coach, and leadership consultant. Having consulted for the top personal development training organizations in the U.S., Del has addressed thousands of people in toxin seminars. He joins the show today to help distill the complex topic of leadership down to a simple framework that you can apply in your practice immediately.
Listen in as Del shares how he developed his growth mindset and ended up being an expert and leader in the personal development field. You'll learn why people lack clarity in purpose and vision, as well as how that applies to dentistry, so you can better find clarity and purpose in your career. Del also walks through the value of having frameworks to follow and provides one that will help you increase your influence with your staff and your patients.
Be Inspired and meet more Legendary Leaders
Key Quotes:
"My father was in prison, I was doing crazy stuff, and long story short, I realized that the path I was on would lead to the same place he was at. It was Christmas night, and I realized that if I want all of this to change, I have to change. That's when my personal growth journey started."
"It doesn't have to be this fluffy thing—follow step 1, step 2, step 3. People overcomplicate things. Just find the framework and go with it."
"The question is: Who do you want to serve? And how do you serve well? That helps to guide you into your purpose."
"When we get distracted, that's when unhappiness comes. When we get clear on our vision and keep it in the forefront of our mind, we'll be much happier."
"The fact is, we're all leaders, and I hope that people realize that. Leadership is influence."
"The foundation of leadership is developing relationships with your staff and patients."
"A great leader is a servant leader. Your job is to listen to your staff. This is a chance to observe your staff so that you can serve your staff."
Featured on the Show: