Podcast: Play in new window | Download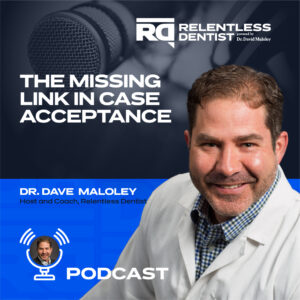 "One of the most sincere forms of respect is actually listening to what another has to say" — Bryant H. McGill
Doc, do you need to get better at Dentistry's most profitable skill? If you want to…
earn patient trust and rapport,

know the key to effective interpersonal communication, and

understanding your patients so you can improve referral and case acceptance rates,
then tune in now!
We want your dental practice to be full of raving fans, full of people going out in the community and talking about how awesome you are and how great of an experience you create.
Listen in and find solutions to common practice issues at  Prescriptions for Your Practice.
If you enjoyed this episode, please share it with your dentist friends. Check my Instagram (@dr.maloley) and TikTok (@dr.maloley) for your daily dose of thought-provoking content so that you can be a better practice owner. Don't forget to subscribe to the show on iTunes to get automatic episode updates for The Relentless Dentist! And, finally, please take a minute to leave us an honest review and rating on iTunes. They really help us out when it comes to the show's ranking, and I make it a point to read every single one of the reviews we get.
Key Quotes:
"Sales is getting more difficult. People are more skeptical. People are tired of being lied to by the media and just assume that no one is to be just trusted at this point in time."

"If you are not seeking to understand, there's a myriad of things that could be getting in the way."

"We have to make sure that we don't need to pitch the service. We have to make sure that we're solving problems for the patient."

"Most people don't spend time to really understand what makes this individual and what makes them unique."

"Active listening from a healthcare provider is rare."

"Deep listening means not just listening to the words. It means listening to their emotion."
Featured on the Show: