Podcast: Play in new window | Download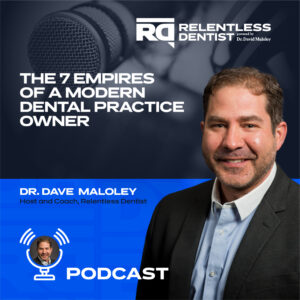 The struggle is great, the task divine—to gain mastery, freedom, happiness, and tranquility. — Epictetus
Do you know what's more important today than a business or financial plan for dental practice owners?
Many dentists are doing this extreme delayed gratification. And we have this idea in our head that in 20 years or 40 years, we can cash in and redeem these decades of living in dread and resentment.
Doc, if you want to…
Learn why you should be building 7 EMPIRES,

Remove the problems of the Slave, Save, and Retire Method, and

Know why breaking away from social norms is critical for Practice Owner Confidence so you can avoid your next [email protected]#k This Event,
Then tune in now!
Listen in and find solutions to common practice issues at  Prescriptions for Your Practice.
If you enjoyed this episode, please share it with your dentist friends. Check my Instagram (@dr.maloley) and TikTok (@dr.maloley) for your daily dose of thought-provoking content so that you can be a better practice owner. Don't forget to subscribe to the show on iTunes to get automatic episode updates for The Relentless Dentist! And, finally, please take a minute to leave us an honest review and rating on iTunes. They really help us out when it comes to the show's ranking, and I make it a point to read every single one of the reviews we get.
Key Quotes:
"The ripple effect from confidence into a culture, into client outcomes, into cashflow is very powerful, but we have to start with the right center mass, and that's you as the owner."

"We're not short on opportunity. We're not short on information. We're short on a framework that allows us a binary decision of "I say yes to these things" and "I say no to those things."

"Lifestyle design was that kind of hybrid thing where you design specifics unique to you. Those specifics would fall under the categories of your nature, strengths, values, dreams, curiosities, and purpose."

"You're not gonna have influence on your family, friends, or team unless you have clarity."

"A lot of the ways that we operate in adulthood are just patterns we accept because that's what kids do in our youth."

"Life will always have problems and challenges, and you can reframe them as thinking like this is really actually a good thing."
Featured on the Show: