Podcast: Play in new window | Download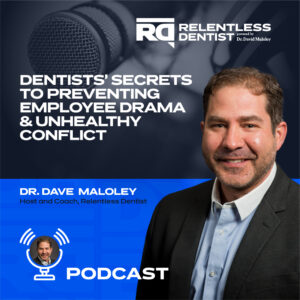 So what happens when there's high conflict in a dental practice? Why is it so important to really understand the nuances of this game?
Given the society that we live in, the level of unrest, the level of frustration, and the stuffed emotions that have happened over the last couple of years, it's only expected that some of this will leak into your practice and surface as unhealthy conflict. So you should be prepared with a tool kit. And that's what we're going to be talking about today. 
Doc, are you leveraging the power of healthy conflict?
If you want to:
Enjoy coming to work,

Have a unified team, and

Avoid playing babysitter or referee …
So you can have a confident culture during uncertain times, tune in now!
Listen in and find solutions to common practice issues at  Prescriptions for Your Practice.
If you enjoyed this episode, please share it with your dentist friends. Check my Instagram (@dr.maloley) and TikTok (@dr.maloley) for your daily dose of thought-provoking content so that you can be a better practice owner. Don't forget to subscribe to the show on iTunes to get automatic episode updates for The Relentless Dentist! And, finally, please take a minute to leave us an honest review and rating on iTunes. They really help us out when it comes to the show's ranking, and I make it a point to read every single one of the reviews we get.
Key Quotes:
"We can express thoughts without feeling like we're gonna be put down or that we have to put someone else down. And that we're just having a difference of opinion."

"Sometimes love doesn't mean that you're letting people off the hook. Sometimes that love is tough. And that's what healthy conflict looks like in a very enhanced culture."

"We have to make sure that we're preventing unhealthy conflicts so that we're not putting out fires. You, as a dentist, have better things to do." 

"We can't expect a team to be on the same page if we haven't given them that page."

"Ironically high conflict tends to create poor and careless decisions."

"Unhealthy culture promotes more culture cancers. And you go from stage one cancer to stage four cancer. And once it's at stage four, as far as culture cancer goes, it's really difficult to resolve."

"Every time is what's best for the patient. What's best for the patient. What's best for the patient."
Featured on the Show:
I appreciate your feedback. Let me know what you learned and loved here:

[email protected]

.