Podcast: Play in new window | Download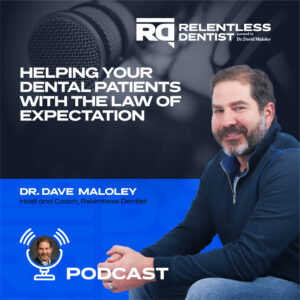 When it comes to dental health, expectations are an essential factor. The more positive expectations your patients have, the more likely they will be to take the steps necessary to achieve their dental health goals. As a dentist, you can help your patients to set positive experiences for themselves by letting them understand the importance of good dentist-patient communication. 
In this episode, I discuss applying The Law and creating a referral-centric dental practice.
So, if you want to STOP being the everything-to-everyone dentist…

If you want to feel respected by your patients…

If you want to experience sky-high case acceptance so that you can comfortably lead your patients to better health and confidence…
Tune in now!
Listen in and find solutions to common practice issues at  Prescriptions for Your Practice.
Check out our New Case Study, "Discover How To Recession-Proof Your Dental Practice In The Next 60 Days So That You Increase Profits & Avoid Losing Key Team Members" now at: http://thenorecessiondentist.com/casestudy.
Key Quotes:
"

In order to be an exceeding expectations practice, you need to understand the patient's expectations. And they also need to know that you have expectations too, and that level of assertiveness will bring about respect and referrals." 

"If you over-policy patients, it feels transactional, and you've undermined the trust and the relationship from the get-go."

"Your patients really want to follow the rules — they want to be clear. It is a tenant of leadership. You're leading them to health. They want to know the rules, and they want to know that you have rules."

 "Start leading your patients so that you are more respected and more referable."
Featured on the Show: