Podcast: Play in new window | Download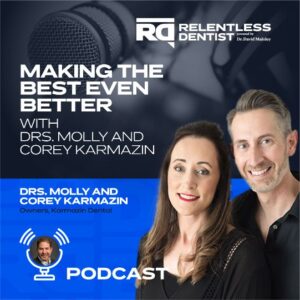 Two of my favorite people in this profession, Dr. Molly Karmazin and Dr. Corey Karmazin, join me on this week's podcast to unpack their secrets to success. Drs. Corey and Molly are among those featured in my "Dentist On A Mission" book. They practice in a gorgeous, state-of-the-art facility in Sioux Falls, SD alongside a very enthusiastic high-performance team.
Listen in as Drs. Molly and Corey talk about how they made their scratch-start dream a reality, how they continue to reinvest in their practice and refine their leadership style to make the best better. They will also share their insights on culture, systems, and lifelong learning.
Tune in and find more Legendary Leadership
Key Quotes:
"They said in school, one of the hardest things you can do is probably start your own from scratch. And we were like, let's do it."

"I think with the information overload that we get now, I think it would feel daunting. I'd probably still do it [a startup practice]."

"We're always big in putting time and effort back into the team because I think it always pays off in spades."

"Sometimes you take it personally when people make a decision to make a change. And I feel like there's no real substitute for just experiencing that. And I won't say that it makes you kind of cold, but it makes you realize to really appreciate what you have at any given time and just know like there's going to be things that are switched out."

"Anytime someone leaves, this is always for the better. And then it makes our expectations and levels even higher for the next one and we're quicker to make decisions whether things are working or not."

"The thing that I've learned, probably the most in the last couple of years, is we've found our voice and it doesn't have to come off as bossy. And being a leader is telling people what you want and giving them the tools to be able to do that."

"We had to invest in technology. We had to computerize the office because I wanted to have a seamless flow from our Sioux Falls office to this office. So it was kind of fun."

"I still can't believe we still have patients that we saw like day one. I felt like I knew nothing. I felt like my skills were there, but they weren't there where they are now. And you're just like, Oh, these people saw it in you. And they were like, you can do it."

"I think doing it on your own, from the get go, you invest so much more in yourself and the business. Whether it's with technology or remodel, whether it's just trying to be on top and up, we just constantly re-investing."

Every single patient through the door has either come because they've picked up the phone and took a chance on us or they have now told other people. And so, we really do very little advertising. A lot of our patients come from, Hey, so-and-so told me to come see you."

"Our confidence in ourselves that we can deliver has made a huge difference."

"You don't know what you don't know and you think you're doing a good job and you can do great dentistry forever in that little bubble. It's just been such a pleasure to burst outside of it and to be able to start different things."

"Make connections with dentists all across the country and even the world."

"You can't complain and get angry and bitter when you come from a place of gratitude."

"Starting each day with a thing of gratitude, I think, has changed everybody."
Corey and Molly Karmazin started their dental practice 18 years ago in Sioux Falls, SD. They have embraced continuing education and technology and A-Team atmosphere at their office. Grace, Gratitude and Attitude help make each day at Karmazin Dental a GREAT DAY!
Featured on the Show: