Podcast: Play in new window | Download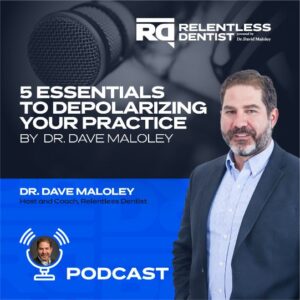 How do we secure a productive environment in our practices? One that doesn't get disrupted by the increasing tension in society and result in a toxic culture that could compromise your livelihood?
Let's engineer a work environment that brings out the best in you and your team!
In this episode, I talk about the imminent changes in the dental profession that are big long-term wins if we start enhancing our company cultures. I'll also discuss how to keep your team innovating and encourage your employees to grow their confidence, improve engagement, and experience joy at work.
Tune in and find solutions to common practice issues at  Prescriptions for Your Practice
Key Quotes:
"Our dental practices are a microcosm for society. Unless we create systems for safety and alignment for our teams, that polarization will create a very toxic culture and undermine your livelihood."

"In all (economic) climates, it's important that you, as a practice owner, are building your confidence and that of your team."

"Personal issues manifest as work issues all of the time."

"If there aren't systems for frequent and open dialogue, there's a very good chance there's some toxic behaviors hidden from you, the doctor. Those are the ones that explode and hurt you, patient care, and others on the team."

"Make sure you have some sort of no gossip policy."

"Make sure that you have systems for recognition."

"If you, the doctor, don't engineer an environment that brings out the best in you, patient care and your pay will eventually take a hit."
Featured on the Show: