Podcast: Play in new window | Download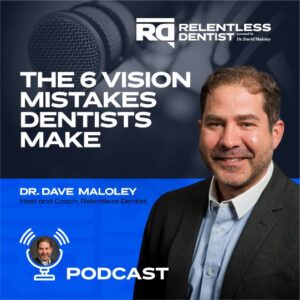 In this episode, I will expound on The 6 Vision Mistakes Dentists Make. I will discuss how crafting a clear vision supports the team's growth and reinforces the practice effectively.
More than ever, dentists need to have a well-defined mission and a compelling vision to reinforce their practice, not only for themselves but also for their staff and patients. It provides a clear and consistent direction as to where the practice is going.
Faced with many challenges aggravated by these uncertain times, dentists need to run a successful business to avoid plateaus. One key aspect of strengthening the business is value-creation among the team steered by a well-executed vision. It has to be big enough to fit all of the employees' dreams and hopes in it.
What does your practice look like five years from now?
Tune in and find solutions to common practice issues at  Prescriptions for Your Practice
Key Quotes:
"It's important that we have a vision and we execute that properly."

"Execution without vision creates friction."

"Your vision has to be big enough to fit all of your employees' dreams and hopes in it."

"Being flexible and strategy is important once we define our mission and our vision."

"Vision needs to stir excitement and emotion."

"We need to evolve as humans."

"We need to grow our practice by growing our people."

"Make sure that you're willing to become something much more."
Featured on the Show: