Podcast: Play in new window | Download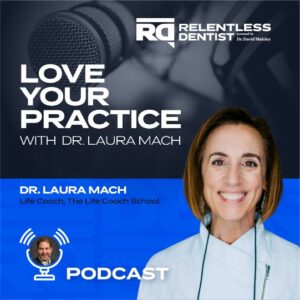 Dr. Laura Mach is a fellow dentist, podcaster, and leadership coach whose focus is on female dental practice owners. Through her Love Your Practice program, she guides clients on how to lead in a way that creates less stress and more peace in their practice and their life.
Listen in as Laura shares her journey into dentistry and why she made the decision to buy her private practice only eight months after graduating from dental school. She'll also dive into the shift that happened for her to evolve as a leader, why everything we do is driven by only one thing, and why culture change really needs to start from the top to become fundamental to an organization.
Tune in to more Mind Shift Episode Podcast
Key Quotes:
"If I can be aware of that thought and look at it differently, it's going to create something completely different."
"I questioned the morality of my choice, but at the same time, I still had that fire from the epiphany moment when I knew I could be a dentist."
"Entrepreneurs risk their own money and their own comfort because they believe that something better is coming."
"You can be a life coach and still worry about the same stuff, because even life coaches have human brains."
"My job as a coach is to show people what their brains are doing."
"People think if they change the facts, it will change how they feel. But changing the fact does not change how you feel—you have to change what you're thinking in order to change how you feel."
Featured on the Show: