Podcast: Play in new window | Download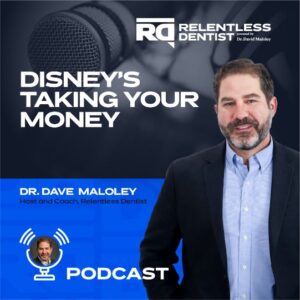 "Togetherness, for me, means teamwork." — Walt Disney
Yes, Disney's taking our money — money that we gladly give. In fact, we work our fingers to the bone just for us, and our loved ones enjoy a moment of pleasure in the happiest place on earth.
But what is so great about Disney that we're willing to do prodigal spending to the extent of cutting costs on essential expenditures like dental care? Can we adapt and make the Disney magic work in our practice?
In this episode, I'll delve into the principles that make Disney appeal to the core of our senses. The reasons why we trust the company and will continue to spend our money on them even after the magic no longer works on us. And most importantly, how our practice can learn from the values that Mr. Walt Disney himself established to which the company is built upon.
Disney's taking our money. Wouldn't it be fair to "steal" their strategies in enthusing clients and recover the money we've willingly given to Disney?
Tune in and find solutions to common practice issues at  Prescriptions for Your Practice.
Key Quotes:
"We oftentimes lose sight, or we don't fully appreciate who our competitors really are."
"We can steal like an artist and understand the principles that allow some of these big companies to take the healthcare dollars and put them in their pocket. This way, we can generate more loyal patients, better case acceptance, and referrals."
"If we're working under the assumption that Disney is one of our competitors, it would be wise for us to understand some of the principles that allow them to consistently enthuse their clients."
"There are unlimited things to make sure that the patient feels that your place is clean and safe and a place where they want to continue to have healthcare."
"We want to go into a business, whether healthcare or not, that is courteous."
"Efficiency is shifting the pendulum from "needing more resources" to "I am resourceful.""
"Your competitor is anyone who's creating a reallocation of precious healthcare dollars away from healthcare."
Featured on the Show: