Podcast: Play in new window | Download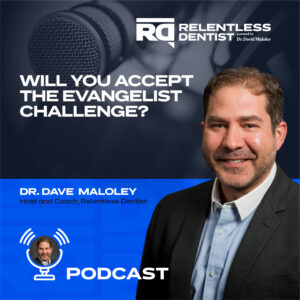 How do you level up your marketing strategies, especially in this digital age? You might be dancing on TikTok or pointing at things on IG reels. And I think that's great, but word of mouth is still a compelling way to generate enthusiasm — mainly Evangelism Marketing.
Evangelism Marketing is an advanced form of word-of-mouth marketing. It's a cost-effective way that keeps your clients loyal, your brand trustworthy, and your culture robust. Very far from blabbering and spewing nonsensical dental jargon that results in practically nothing.
Today's podcast is about enthusing your clients. We're going to be addressing the problem that many practices have become overly reliant on digital platforms. We're going to infuse some enthusiasm into your routine. We're going to create a surge of surprise and delight, and I'm going to throw out what I call the Evangelist challenge. Are you curious now? Stay tuned and find out.
Tune in and find solutions to common practice issues at  Prescriptions for Your Practice.
Key Quotes:
"Individuals, patients, in this case, want to make the world a better place. And evangelist customers or clients or patients spread their recommendations and recruit new customers for you, just out of belief in you and what you can do."

"If your administrators are maniacs about capturing where patients heard about you from, make sure that they are so good at that." 

"If you have a practice of 2000, 1% is your super clients — this is your evangelist."

"There's an unlimited opportunity on a practice to do this sort of thing, to pour into your patients, to make remarkable experiences and be extraordinarily extraordinary."
Featured on the Show: