Podcast: Play in new window | Download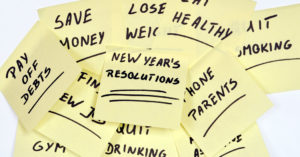 As we settle into 2019, many of us are thinking about resolutions and what we want to achieve in the new year. But too often, people go about setting goals in the wrong way and end up frustrated and discouraged. So today, I'm going to share an episode I recorded with Joe Blalock and Cole Hackett of the Life and Dentistry podcast that's all about how to set goals in a way that sets you up for success.
Listen in to hear us break down the key ingredients for succeeding when it comes to resolutions, goal setting, and lifestyle design. You'll learn how to use human nature to ensure your goals work for you and not against you, the common mistakes people make that set them up for failure before they've even begun, and what you can do to create habits that will lead you to the life you want.
Be inspired! Watch more Hints for Happiness podcast episodes
Key Quotes:
"Success is on your own terms, and if you define it, if you're clear about it, if you don't let your vision get hijacked, those opportunities are available to each and every one of us at higher and higher levels as our career goes on."
"If I do something for ten minutes a day for 365 days, that's 60 hours of output. There's not much you can't become almost a subject matter expert on in 60 hours."
"For me, if I set a realistic goal, it's all in my brain, and I feel like, if I'm going to hit big targets, it's gotta scare me a little bit, and it's gotta connect the head and heart to some degree."
"The only way to grow predictably as a human is to look at the drivers of our subconscious. That is our beliefs, the story we tell ourselves, and our identity."
"Most people don't even know what they want. You're lost from the very beginning expecting someone to hit a target they can't see."
"True success is a matter of alignment, and if you can get your thinking and behaviors all in alignment, then hitting these targets just becomes like target practice, because you know how to do it predictably."
"If you're going to follow through on something, one of the main ingredients typically is having to report to somebody you respect."
"The common themes that you'll find in everyone's purpose—if it's really good and they've worked through it—is to serve and to grow and expand. That's what makes us fulfilled."
"If we create a path that we're always looking to increase our health, increase our wealth, increase our connection with God, and increase our spirituality—that's the fuel, and then all these other things, these lifestyle things, become the byproduct. Now we've got a pattern that's repeatable, and it doesn't leave us running ragged."
"If you're just 1% better each day for 365 days, you're 38 times better at the end of the year."
Featured on the Show: