Podcast: Play in new window | Download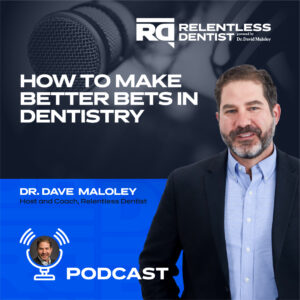 "In most of our decisions, we are not betting against another person. Rather, we are betting against all the future versions of ourselves that we are not choosing." — Annie Duke
Do you have decision-making frameworks when you are up against a complex or a simple decision? Do you have questions that you ask yourself to make the decision more effective or accurate?
We have to appreciate that business is a game of probabilities. We are betting on wins and trying to minimize the chance of loss.
Do you want to know why well-intentioned dentists make poor decisions? Doc, if you…
want to understand an enemy called Resulting,

use the 10-10-10 Method, and

know the 3 keys to making good decisions at speed so you can increase your practice's profitability…
Tune in now!
Listen in and find solutions to common practice issues at  Prescriptions for Your Practice.
If you enjoyed this episode, please share it with your dentist friends. Check my Instagram (@dr.maloley) and TikTok (@dr.maloley) for your daily dose of thought-provoking content so that you can be a better practice owner. Don't forget to subscribe to the show on iTunes to get automatic episode updates for The Relentless Dentist! And, finally, please take a minute to leave us an honest review and rating on iTunes. They really help us out when it comes to the show's ranking, and I make it a point to read every single one of the reviews we get.
Key Quotes:
"Nobody wants to work for indecisive leaders, and they don't want the pendulum to swing the other way. They don't want to work for rash leaders."

"Intelligent people tend to have more blind spots."

"If you are seeing it [hiring] as a bet and an investment, you'll stick with that person, help them train, help them understand what successful work looks like in your organization." 

"In reality, good decisions can have bad outcomes, and bad decisions can have good outcomes. So we can't really assess it from the position of the outcome." 

"Most decisions need about 70% of the information you wish you had."

"If you're somebody who is always trying to gather more data to make the absolute best decision, start making bolder moves and quicker decisions and develop a new habit, your team will appreciate it. You will appreciate it."

"A lot of research strongly suggests that luck and opportunity play an underappreciated role in determining our final level of success."
Featured on the Show: