Podcast: Play in new window | Download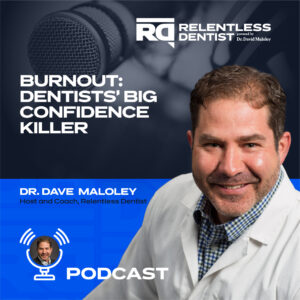 As a dental practice owner, I am well aware of the consequences of burnout on dental professionals. The National Institute for Occupational Safety and Health (NIOSH) has reported that dentists have a higher vulnerability to burnout compared to other healthcare practitioners. Not only can burnout damage our private lives, but it can also hurt the health of our businesses.
In this episode, let's explore the warning signs of burnout and its consequences for dental professionals. We'll discuss strategies for prioritizing self-care, establishing boundaries, and obtaining assistance.
I think it's important that we take a moment to candidly discuss the dark side of our profession.
So if you want to avoid misalignment between who you truly are and what you spend your workdays doing…

If you're ready to acknowledge that the problem isn't that we work too hard. It's that we don't recover well enough…

If you want to enjoy a high-performance career so you can have the lifestyle and income you want without burning out…
Tune in now!
Listen in and find solutions to common practice issues at  Prescriptions for Your Practice.
Join The Leading Dentist Collective – the free collaborative community for single-location dental practice owners who want to unleash their people, profits, and purpose.
Key Quotes:
"Part of being a high performer is realizing when you manage yourself, manage a team, manage a business, that you're optimizing for the upside but you also have to protect the downside, and burnout would be one of those things that we have to engineer against."

"Experiencing burnout has a long-term negative effect on your health, relationships, career, lifestyle, and dental practice profitability."

"Burnout is not anxiety, and it is not depression, but they're closely related."

"It has to start with you, the doctor, being a little or a lot more selfish so that you can take better care of your team, your patients, and your family, and contribute to your communities."

"The problem is not that we're working too hard. The major problem here is that we don't recover enough. You need to think like an athlete — Work Hard. Rest."
Featured on the Show: