Podcast: Play in new window | Download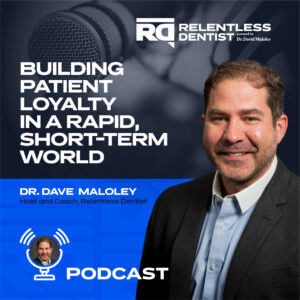 In a world dominated by digital interactions, there's a powerful reminder that the smallest gestures can create lasting impacts.
Imagine the surprise when a dental practice owner realizes that a simple birthday card had a profound impact on a patient. It's a testament to the significance of small, meaningful moments. As a dental practice owner, you'll discover how these moments can forge deep emotional connections, build patient loyalty, and elevate your practice to new heights.
While we excel at dental expertise, we also recognize the importance of weaving the philosophy of relationship-building into every aspect of your practice. We'll delve into the financial perspective of distinguishing between expenses and investments that deepen patient loyalty. Learn how to listen actively, rethink touchpoints, and celebrate the small moments that strengthen the bond with your patients in this podcast designed exclusively for dental practice owners.
Dive into this episode and discover:
"Hot Fudge Sundae" Experiences:

 Master the art of creating standout moments that cement patient loyalty in an instant-gratification world.

Lifetime Value:

 Unearth the strategy behind enhancing this hidden gem for sustained practice success.

Handwritten Notes & Snail Mail:

 Reconnect with the age-old magic that deepens patient ties like no digital method can.

Trust Building:

 The underlying foundation that ensures everything else falls into place.
For dental practice owners aiming for not just growth but a legacy, this episode is gold. Tune in now!
P.S. Reveal the hidden potential in your dental practice. Take the Dentists Ascend Quiz for your customized results.
Key Quotes:
"In the era of instant gratification, dental practices cannot take patient loyalty for granted."

"Focusing on patient loyalty and lifetime value in a dental practice is going to bring you some fantastic benefits."

"Patient loyalty is not just about clinical excellence. It's about building emotional connections."

"Make memories for your patients. Make it remarkable, worth remarking about."

"When a patient receives one of these thoughtful, kind notes, they're more likely to reciprocate with loyalty, trust, positive word of mouth recommendations."

"Patient loyalty is a bedrock upon which your thriving patient-centric dental practice can be built for endurance."
Featured on the Show:
I appreciate your feedback. Let me know what you learned and loved here:

[email protected]

.