Podcast: Play in new window | Download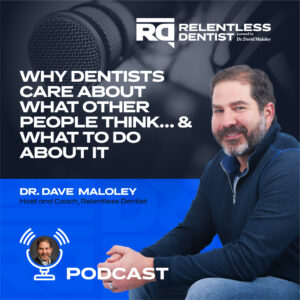 How's your first half of 2022? I hope it went out well, and I fervently wish the second half would turn out incredible!
This entire podcast is designed to build owner confidence — so you can build team confidence that leads to building patients' confidence, therefore, creating incredible value that ushers in cash flow. 
In this episode, I discuss the #1 reason for dentists' insecurity. So if you want to:
have a prosperous dental career,

reduce your practice owner worries, and

ignore the cynics and naysayers, so you stop people-pleasing and win more often, then tune in now!
Remember, if you try and please everyone, you please no one.
Listen in and find solutions to common practice issues at  Prescriptions for Your Practice.
If you enjoyed this episode, please share it with your dentist friends. Check my Instagram (@dr.maloley) and TikTok (@dr.maloley) for your daily dose of thought-provoking content so that you can be a better practice owner. Don't forget to subscribe to the show on iTunes to get automatic episode updates for The Relentless Dentist! And, finally, please take a minute to leave us an honest review and rating on iTunes. They really help us out when it comes to the show's ranking, and I make it a point to read every single one of the reviews we get.
Key Quotes:
"I went from not knowing what I was gonna do to being so decisive and so determined to the point where I really didn't care about anyone else's opinions."

"The real magic is being really good at diagnosing. What is the constraint? What is the rate-limiting step? Where are the breaks on where we need to release the breaks? And in almost all practices I know of, there is a bit of people-pleasing and approval addiction."

"We're all programmed that others' recognition contributes to our own self-worth. And I think as infants, you could care less, and then it's kind of, we've knocked around, and then we become more approval seeking."

"Now with social media, we get likes and hearts and shares and things like that. You're exposed to all sorts of reviews, especially if you've automated the review process. And that exposes you to not only the five-star reviews, but you're also kind of prompting people to have a voice that maybe you don't want them to share their voice."

"We can't worry too much about what they were thinking because it's saying more about them than it's saying about you. So recognize that hurt people, hurt people."

"The less you judge others, the less you'll think about others judging you. Right? And then go back to when someone is judging you; it really has nothing to do with you. They're usually projecting their own uncertainty."
Featured on the Show: