Podcast: Play in new window | Download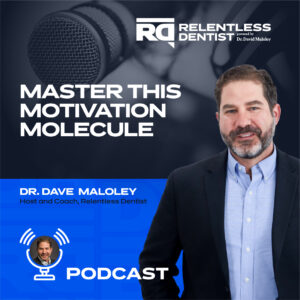 "What man actually needs is not a tensionless state but rather the striving and struggling for some goal worthy of him. What he needs is not the discharge of tension at any cost, but the call of a potential meaning waiting to be fulfilled by him." – Viktor Frankl
What drives your confidence? What enhances your leadership skills and ability to build your team and culture? In what ways are you giving purpose in your life and career to achieve happiness?
In this episode, I expose what's attacking your happiness. So if you want to,
understand today's most important currency,

acknowledge there's an addiction chess match going on in your home and practice, and

leverage dopamine to get everything you want so you can engineer indefinite motivation and growth, tune in now!
I want you to master this motivation molecule so you suffer less and win more regardless of the challenges and the economy.
Listen in and find solutions to common practice issues at  Prescriptions for Your Practice.
If you enjoyed this episode, please share it with your dentist friends. Check my Instagram (@dr.maloley) and TikTok (@dr.maloley) for your daily dose of thought-provoking content so that you can be a better practice owner. Don't forget to subscribe to the show on iTunes to get automatic episode updates for The Relentless Dentist! And, finally, please take a minute to leave us an honest review and rating on iTunes. They really help us out when it comes to the show's ranking, and I make it a point to read every single one of the reviews we get.
Key Quotes:
"In this age of hyper abundance, over-indulgence, pleasure, and addiction, confidence will come from understanding in managing your dopamine."

"We live in an era of consumption and compulsion, and we have to embrace that. All of us are pleasure addicted."

 "If we don't understand addiction, and we don't understand where it comes from, if we don't understand how to leverage that as a force for good and avoid it as a force of evil, then we lose this chess match of addiction."

"We are our addictions. Our patterns of thought, our patterns of behavior, and what we typically call personality is simply an addiction." 

"Pleasure inevitably leads to pain. And so we have to be okay with lows after our wins. It's just part of the process."
Featured on the Show: