Podcast: Play in new window | Download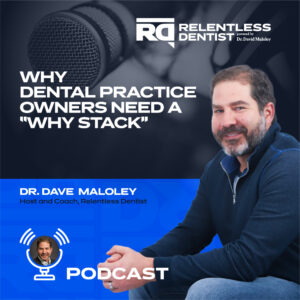 "People don't buy what you do; they buy why you do it and what you do simply proves what you believe." – Simon Sinek
What's your purpose as a dental practice owner? Why are you doing what you're doing? But while you seek out your purpose, why not create a "Why Stack" that you can use to leverage on yourself and keep you going in good times and in bad? I want you to have a thriving practice with plenty of cash flow and high profits. But most importantly, I also want you to enjoy it because that enjoyment part is a requirement.
In this episode, I discuss how to avoid the two BIG cash flow killers.
So if you want to understand how dentists stay motivated in challenging times and finally answer the question "what's in this for me?" so you can consistently increase your income and net worth, tune in now.
Listen in and find solutions to common practice issues at  Prescriptions for Your Practice.
If you enjoyed this episode, please share it with your dentist friends. Check my Instagram (@dr.maloley) and TikTok (@dr.maloley) for your daily dose of thought-provoking content so that you can be a better practice owner. Don't forget to subscribe to the show on iTunes to get automatic episode updates for The Relentless Dentist! And, finally, please take a minute to leave us an honest review and rating on iTunes. They really help us out when it comes to the show's ranking, and I make it a point to read every single one of the reviews we get.
Key Quotes:
"I think the important underlying conversation to succeeding beyond standard norms over the long term is how do we get enhanced results while reducing stress? Because if we don't reduce that stress, then bad things happen."

"The problem is that there are all these books, hundreds of books talking about finding your purpose, right? And I feel like purposes are now positioned as this big elusive thing."

"If you're gonna be good at leading a team and your team is gonna be good at leading patients to do the right thing for their health, then you're gonna need more than extrinsic motivating factors."

"I think there's a greed slash ego slash selfishness issue in modern society. But the thing I will say is I do not think that's a problem with most dentists."

"Generally speaking, we are happier when we're spending money on experiences and less happy when we're spending on tangible items. But that's not exactly true either, right?"

"If you're a solo practitioner, you get to decide and choose a path of being not on demand, but in demand.

The more valuable we are, the more income we have."

"A little frustration is actually a good thing because you're uncomfortable and you're gonna find a resolution."
Featured on the Show: