Podcast: Play in new window | Download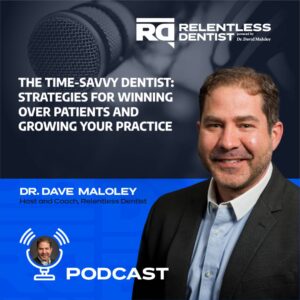 As a dental practice owner, you're no stranger to the complexities of managing appointments, patient satisfaction, and operational efficiency. In an industry where patient loyalty and referrals reign supreme, any misstep can tarnish your practice's reputation and profitability. 
Imagine a future where your practice thrives with consistent revenue growth, increased profits, and a flood of patient referrals. This is the potential that prioritizing time holds. But the journey doesn't stop there. It extends to optimizing practice operations, harnessing feedback for continuous improvement, and strategically embracing inefficiencies for personalized care.
In this episode, I discuss why Time Based Competition is an incredible business advantage for you.
So if you want to understand why Apple execs read "Competing Against Time"…

If you want to create value with Strategic Inefficiencies…

If you want to reduce wasted time and motion in your practice so you can generate more revenue and referrals …
Tune in now!
Listen in and find solutions to common practice issues at  Prescriptions for Your Practice.
Attention single-location dental practice owners who want to build a high-performance team so that you can take more time off while enjoying elevating profits: Learn about Dental Practice 3.0 and the new Dentists Ascend Mastermind
Key Quotes:
"Respecting time isn't just merely a courtesy, it's about creating patient experiences that transform them into the most passionate supporters."

"Prioritize time to achieve consistent growth, revenue, and patient referrals, resulting in greater profits and bigger paychecks."

"Efficiency and quality dedication transform your practice into a booming business and a hub of devoted advocates."

"Dental practices can gain a competitive advantage by reducing time in innovation and quality care delivery."

"Minimize patient wait times to show respect and build trust from the moment they step into the office."

"Continuous feedback from patients and team insights drive refinement, while strategic inefficiencies like post-op calls and handwritten notes enhance patient relationships."
Featured on the Show: