Podcast: Play in new window | Download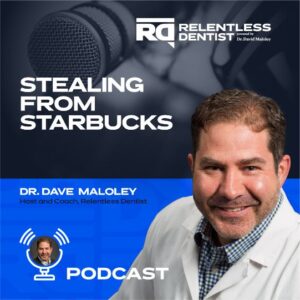 Ok, sit down and hold your horses (or cup?); I'm not suggesting that you commit a crime (pretty far from that). But, while I had your attention, let's talk about Starbucks. Did you ever wonder how Starbucks redefined the coffee experience? Can you provide a similar experience in your dental practice?
Starbucks has brought in disruptive innovation. It was so phenomenal that it created a niche market and cult following — and of course, competitors. Yet, despite the competition, it has remained steadfast and continues to expand immensely, offering the same consistent products and services wherever you are in the world.
This episode will talk about valuable lessons that you can "steal" from Starbucks to create a patient experience that you will be proud of. I'll also share tips on finding good team members and keeping them away from the prying eyes of your competitors. So relax, listen to my podcast while enjoying a cup.
Tune in and find solutions to common practice issues at  Prescriptions for Your Practice.
Key Quotes:
"Competition is no longer the dentist down the street. It's anyone who employs good people."
"You have to provide an employer brand that gives these people who want good jobs the upside."
"We should go into our day-to-day as a student or as a consultant."
"Your top customers are the people on your payroll."
"Highly compassionate, highly motivated, hungry, humble, and smart employees want to create their own personalized experience for the patients that walk in your door."
"One goal for you and your team is to make sure that every patient feels like the only patient on the schedule."
"Your number one job is to make sure that everyone on the team sees the vision, mission, and values as the boss."
"Make sure everything is congruent and consistent in your practice with the identity you want out in the marketplace."
"The customer isn't always right."
"Good team members are really hard to replace. So make sure that you're pouring into your team members and you understand that if you treat them as a level 10, they'll treat your patient as a level 10."
"You'll find that most of the big insights you get, the big wins you get in dentistry, you take from other industries."
"Most people are not willing to do what you're willing to do, and that's the ultimate competitive advantage — is to create unique value in your communities."
Featured on the Show: