Podcast: Play in new window | Download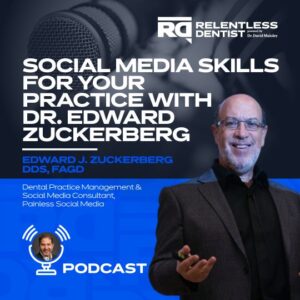 I've been podcasting for over 7 years now, and this interview is one of my absolute favorites! Dr. Edward Zuckerberg of Painless Social Media joins the show today to talk about his early adoption of technology, extreme attention to detail when dealing with fearful patients, and much more.
Listen in as Dr. Zuckerberg shares his journey, including what led him to become one of the most innovative dentists of his time. You'll learn how he channels his passions for dentistry, marketing, and helping people, as well as how you can leverage social media and use tools you might not even know are already in your tool belt.
Tune in and find more Magnificent Marketing Podcast
Key Quotes:
"I was looking to not have a tedious career. Adopting and implementing new technologies made the practice of dentistry fun for me."
"After extensive discussion, it was clear that going to the dentist wasn't people's favorite thing, so I tapped into my wife's database of knowledge to develop protocols for treating people who were phobic of the dentist."
"With the phobic patients, they're not going anywhere, even if they have changes in insurance."
"Provide channels for virtual consultations via teledentistry."
"I try to be a short-term therapist rather than a psychoanalyst."
"It's really important for dentists to know how social media works and be involved in my initial training."
"Any content that can generate engagement is good, but you really want to create a bond between your staff and your patients."
Featured on the Show: