Podcast: Play in new window | Download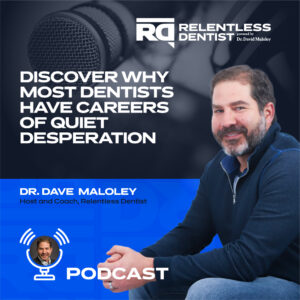 "Remember to be careful when following the masses; sometimes the "M" is silent." — Anonymous
Today's problem that we're discussing is that we live in a society looking for bandaid solutions, quick fixes, and magic pills. These things lead to a lack of accountability, leading to a lack of results — which I call the commodity trap. I don't want you to be in a situation chasing down the masses and living to someone else's vision and version of success and live the rest of your life in quiet desperation. Step into the possibility that we can all choose a mastery path.
In this episode, I discuss why the masses are asses. So if you want to:
elevate your practice owner confidence,

avoid the pain of being a dabbler, obsessive, and hacker,

be the most sought-after dentist in town,

know how to prioritize your skill stack for fun and profit,
Listen now! This episode is for you.
Tune in and find solutions to common practice issues at  Prescriptions for Your Practice.
Key Quotes:
"Lots of dentists are worried about the commoditization of dentistry, but those same dentists likely aren't de-commoditizing themselves and working on elevating their confidence."

"The first move to mastery is not outward but inward — Robert Green"

"You feel called to do certain things, or you have unique skills or unique strengths that aren't common. They might be easy for you and really hard for somebody else. And you might get frustrated at somebody else."

"What we're looking for in a dental practice is complementary strengths, complementary life's tasks that help us synergize."

"The path to mastery is a windy road. Our vocation is a windy road. It is not a straight line. And so, we have to engage on this journey."

"Leadership and marketing are the ways that you multiply yourself."

 "If you want fulfillment, and you want more money, and you want a better lifestyle, then the operative word is grow." 
Featured on the Show: