Podcast: Play in new window | Download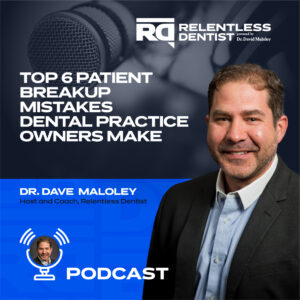 Before you tap that play button, I want you to ponder these questions first: What do patients consider when they choose their dentist? And what makes them go and explore dental services from other dentists?
In medicine, research shows that 30% of patients leave the doctor's office because of long wait times. Unfortunately, the number is higher when it comes to dental offices. The long wait times can make a patient believe that you're in a poorly run business. And if it's a poorly run business, you have subpar clinical standards.
In today's episode, I will discuss the six top reasons why patients break up with dentists. Then, we will talk about patients' perception of us and how we can maintain that in a positive frame, and how we can prevent the consequences of patient attrition. I'll also share lessons from medical doctors' mistakes so that you can prevent patients from even wondering if the grass is greener somewhere else. So just sit back, relax and enjoy the show.
Tune in and find solutions to common practice issues at  Prescriptions for Your Practice.
Key Quotes:
"As smart business owners, we have to manage the upside push for growth and minimize the downside. And what's the downside when it comes to enthusing clients? I think that's when patients leave the practice, when they break up with us, and when there's patient attrition."
"Oftentimes, we're able to maintain the relationship with the patient once they feel understood. And even if we weren't, we can learn things that will help our processes, our systems. So as we strove to get better and better, we looked for more gems in those situations."
"Now urgent care is a big patient perception because what is no big deal to you might be a really big deal to patients."
"Patients aren't loyal. If they're feeling, feeling mistreated or ignored, or that you're always running behind, they might find those greener pastures."
"If patients feel like they're just a number on a spreadsheet that you're pushing treatment on them, that you have aggressive sales tactics, that you don't have their best interests at heart, that then they're going to feel inclined to be a patient somewhere else."
Featured on the Show:
Quote:

"

Customers perceive service in their own unique, idiosyncratic, emotional, irrational, end-of-the-day, and totally human terms. Perception is all there is!" — Tom Peters

I appreciate your feedback. Let me know what you learned and loved here:

[email protected]

.