Podcast: Play in new window | Download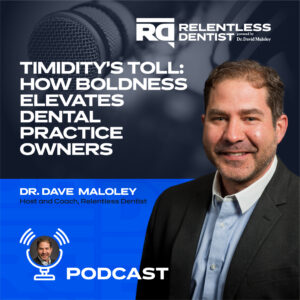 Are you a dental practice owner caught in the inertia of indecision, watching potential growth pass you by? Tune in this week as we delve into the transformative power of boldness in dental practice ownership.
Understand the crucial difference between "Motion vs Action"
Learn how a single act of boldness can set off a ripple effect of positive change
Discover the pitfalls of timidity and how it affects your team and patient relations
If you're looking to elevate your practice by building an empowered team, attracting a loyal patient base, and boosting profitability, don't miss this episode! Ready to step up your game? Subscribe, rate, and review. Share this episode with fellow dental professionals who could benefit from a boldness revolution in their practices.
P.S. Reveal the hidden potential in your dental practice. Take the Dentists Ascend Quiz for your customized results.
Key Quotes:
"Boldness is the key to unlocking a version of you that can effortlessly navigate the complexities of dental practice management."
"When you enter action with boldness, you're not just making a choice, you're setting a precedent of confidence that ripples through every aspect of your practice."
"Hesitation weakens progress; embrace change and innovation with confidence, whether it's adopting advanced technologies or expanding your services."
"Timidity creates internal conflicts and hinders practice growth; boldly confront these obstacles by adopting a mindset of calculated risk-taking."
"Each bold action you take as a dental practice owner brings you closer to the confidence and inner peace you seek."
Featured on the Show: