Podcast: Play in new window | Download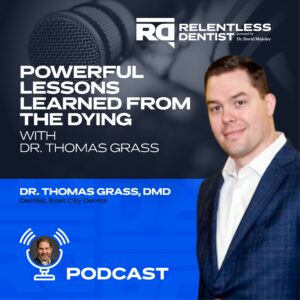 I am re-releasing one of the more popular and the No. 1 most downloaded episode of all my podcasts. It features the incredibly insightful Dr. Thomas Grass as he recounts the story of how he found dentistry and the path that led him to this career. This is one of the most powerful conversations I have ever had on the show, as Tom delves deep into the importance of being present and how to avoid always looking to the future or your next achievement.
We discuss what Tom calls the UFO method and how to use this when approaching unpleasant discussions or delivering difficult news. You'll learn how to create satisfaction out of inherently unsatisfying experiences. Listen in as we share personal stories about making connections with the people in our lives and touch on the responsibility you have to yourself to do the same.
Tune in and meet more Legendary Leaders
Key Quotes:
"The minute you turn your patients into problems, tasks, or room numbers, you've failed."
"Dentistry checks all my boxes; you get to take care of people for a long time, you get to know people, and you get to be hands-on."
"Hospice is really good at showing you all the pieces and parts that surround someone's life."
"You don't know what people are living with, what people regret."
"Tell people what you need from them and give people what they want from you."
"When you are caring for people, you are giving away your emotional energy to them."
Featured on the Show: