Podcast: Play in new window | Download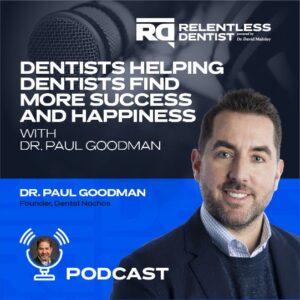 Are you looking for more success and happiness? Dr. Paul Goodman is the creator of Dental Nachos, a Facebook group that is 28,000+ members strong and aims to increase both of those things among dentists. Part dentist, part stand-up comedian, part clinical mentor, part practice transition specialist, and one of the funniest people you may ever meet, Paul joins the show today to share his awesome insight.
With a lot of humor, we're talking about when and why Paul created Dental Nachos, as well as where the unusual name came from. Paul is also sharing why he thinks dental school training is irresponsible, the 3 D's of dentistry that ultimately hurt the industry, and the legitimate concerns the industry is facing. Listen in to learn how those concerns are influencing the dream of autonomy and practice ownership that dentists strive for—and what can be done about it.
Be inspired and meet more Legendary Leaders
Key Quotes:
"Dental implants are one of the greatest inventions the world has ever seen."
"Get to 'good-ish' first, then go from there."
"Dental school does not give us the tools we really need to succeed out there in the real world where the game is being played."
"I hope I could be part of the solution for dentistry by having some of these tough conversations."
"It has become incredibly complex to run a dental practice."
"Social media is great, but it lacks context and it can divide as easily as it can bring together."
Featured on the Show: